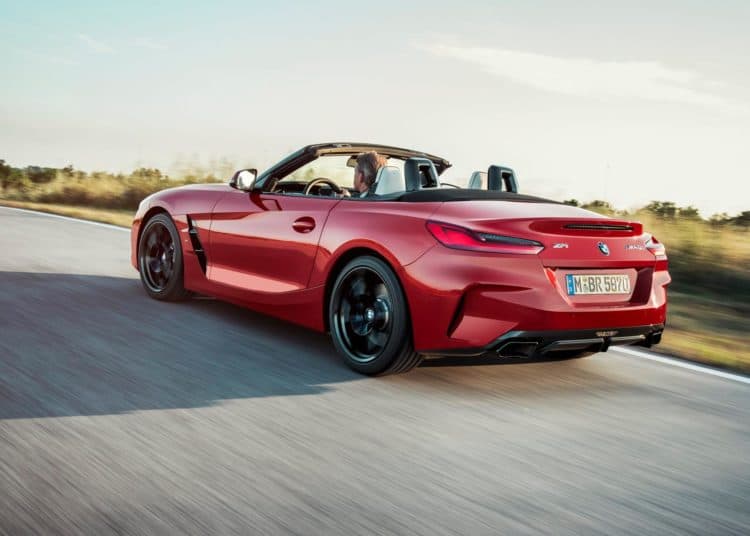 BMW has revealed the third-generation of its Z4 roadster during the Monterey car week in California, with a M40i specification car finished in a colour classified as 'frozen orange'.
With its Pacific Coast highway, Northern California is an entirely fitting environment for the global debut of BMW's return to fabric-roof values for the Z4.
The previous Z4 featured a folding metal-roof and although the engineering which powered and stowed that structure was impressive, metal is heavier than fabric and takes up a fair bit more space in the boot when folded away.
BMW's desire with the new Z4 is a return to its traditional roadster appeal, which means a car which is lighter, agiler and rewarding to drive at the limit. As such the change in roof configuration from folding metal to retractable fabric was a given, considering the mass saving that could be gained.
Technically the new Z4 shares a platform with Toyota's forthcoming reincarnation of the Supra and retains the rear-wheel drive configuration synonymous with BMW's two-door products.
M40i badge implies a familiar 3-litre turbocharged engine, fuelling six in-line cylinders and boosting 250kW. The Z4's M Sport rear differential should be capable of catapulting the car from 0-100kph in only 4.6 secs.
To enliven the Z4 driving experience BMW's engineers have packaged the roadster to seat occupants exactly in the middle of its overall length, with a 50:50 balance of mass front-through-rear.
Electronic dampers at all four-wheel corners should provide a good compromise between ride quality and countering bodyroll, with BMW's engineering emphasis on the new Z4 being a return to the traditional rear-wheel drive dynamic driving values.
The cabin showcases BMW's latest digital dials and the convenience of wireless device charging, which should avoid the bother having to run unsightly cables to keep your Smartphone powered-up.
The new Z4 should arrive in South African during the first quarter of 2019, perfectly timed for enjoying local summer driving conditions so befitting of roof-down motoring.
Help support journalists, the guardians of independent journalism, through our student media initiative that gives a voice to students and their generation! Find out more…