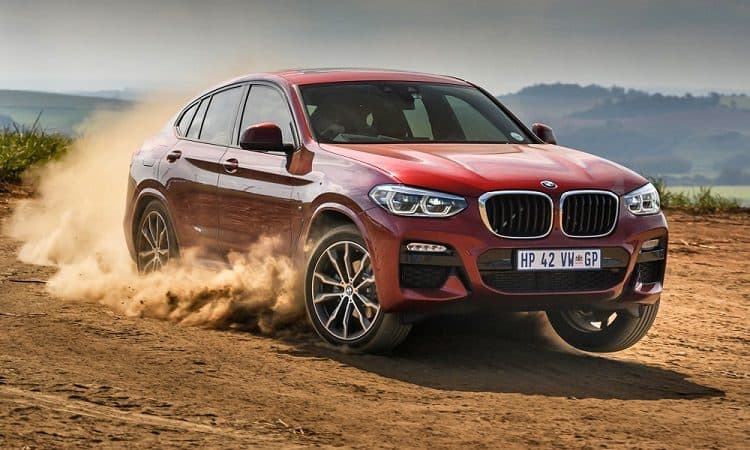 BMW has released the second-generation of its X4 to South African buyers, bolstering the German brand's local SUV/crossover product portfolio.
SUVs with a sloping roofline sacrifice cabin space for style and as such X4 has always been the slightly less practical status car sibling to X3. They share the same platform, engines and related driver assistance technologies. Viewed broadly within BMW's product matrix, X4 sits between above X2 and below X6 – appealing to those who occasionally require some gravel travel ability, but above all: desire to make a statement with their choice of BMW SUV.
Powering the new X4 range are three engine options, two petrols and a diesel – all of which are turbocharged. The two four-cylinder engines are both 2-litres in capacity, with the petrol version boosting to 135kW/290Nm and the diesel delivering outputs of 140kW and 400Nm.
Customers who prioritise performance above all else will have option on a 3-litre in-line six turbopetrol, good for 265kW and 500Nm. The badge associated with this six-cylinder model is M40i and with 0-100kph capability of only 4.8 seconds and a top speed of 250kph, it's certainly worthy of the 'M' affix.
The M40i also features an M-Sport differential, torque vectoring and the latest BMW all-wheel drive system, which uses sophisticated torque distribution algorithms to deliver close to a traditional rear-wheel drive experience. With an increased wheelbase to aid stability and provide more legroom for passengers, the X4 is a typically overachieving middle child within BMW's range of SUVs.
BMW's new X4 is certainly the choice SUV for the keen drivers but what about its gravel travel ability? Well, the ground clearance rating slightly above 200mm, which should be entirely enough for even the most challenging South African dirt road journeys.
Clever packaging has enabled engineers to increase the second-generation X4's luggage space and that means BMW's latest sloping roofline SUV now swallows 525-litres of luggage behind its rear seats, which is only 25-litres less than X3. Owning a stylised BMW SUV is now much less of a compromise when you are packing for those extensive cross-country South African journeys it is so immanently suited for.
Pricing:
BMW X4 xDrive20d: R846 542
BMW X4 xDrive20i: R850 337
BMW X4 M40i: R1 144 185
Help support journalists, the guardians of independent journalism, through our student media initiative that gives a voice to students and their generation! Find out more…Tags: BMWSUV