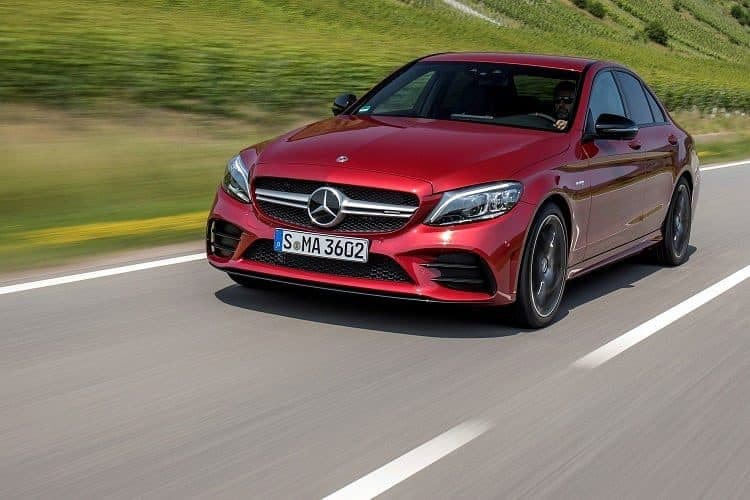 An updated version of the most popular car in Mercedes-Benz's portfolio has been released locally – with some very impressive driver assistance technologies, original seen on the S-Class limousine.
Despite the tremendous global demand for SUVs, Mercedes still sells more units of its C-Class than any other product line and for South Africans, it has the added appeal of being a somewhat patriotic purchase.
A considerable number of C-Class vehicles are assembled at Mercedes-Benz's facility on East London's Buffalo river, testament to decades of investment by the German company in the region. The latest dividend of that is an evolved version of the fourth-generation C-Class which features a high-voltage design architecture and more efficient engines.
Beyond the styling upgrades, new C-Class hides its greatest advance in design: a 48v on-board electrical architecture, configured to cope with the increasing demands placed on available vehicle current by sophisticated digital features and advanced driver assistance systems. The 48v upgrade is also an indication that the latest C-Class has been engineered with an express intent to hybridise and integrate battery packs in future.
The best buy in this new range is perhaps the C200 badge, which is powered by a 1.5-litre four-cylinder petrol engine, benefitting from both a conventional turbocharger and integrated starter/generator system. The electrical power component adds 10kW and 160Nm to the 1.5-litre engine's outputs for short throttle bursts, helping the conventionally 'small' four-cylinder produce impressive performance.
If you require something for compressing distances between Gauteng and the coast, the C300's 2-litre turbomotors is good for 190kW and 370Nm. For those potential C-Class customers who desire an even swifter turn of speed, the AMG options are available, with C43's 3-litre turbocharged V6 now peaking a few units more power (up 17kW to 287kW), which converts to a 0-100kph time of 4.7 seconds.
Remaining true to Mercedes-Benz's vision of a seamlessly connected driving experience, C-Class has consolidated many of its Smartphone and other assistance functions into the steering wheel satellite controls – which are swipe, instead of merely touch sensitive to inputs. C-Class occupants are also treated, for the first time, to massaging seats – as an option – and Mercedes-Benz's hugely sophisticated active LED lighting system will make long-distance night driving much easier too. Both these upgrades source from technologies original debuted on the S-Class.
South African roads can be treacherous at night, as pedestrians and wild animals can unpredictably cross highways and rural byways. Most drivers would desire being able to have maximum beam strength in these situations, but it's a chore having to dip that main beam each time an oncoming vehicle appears.
With new C-Cass, it's all done for you, with clever LEDs evaluating the steering angle and oncoming vehicle's closing distance and adapting the intensity and pattern of the LED light stream, to give C-Class drivers the best possible night driving illumination, without dazzling other road users. An example of S-Class technology which has finally trickled down to other, smaller, Mercedes products.
Prices
Mercedes-Benz C180 – R 586 500
Mercedes-Benz C200 – R 613 500
Mercedes-Benz C180 Edition-C – R 638 553
Mercedes-Benz C220d – R 651 000
Mercedes-Benz C300 – R 716 000
Mercedes-AMG C63 S – R1 435 281
Mercedes-AMG C43 4MATIC – R 916 268
Mercedes-AMG C43 4M – R 948 500
Help support journalists, the guardians of independent journalism, through our student media initiative that gives a voice to students and their generation! Find out more…Tags: AMG