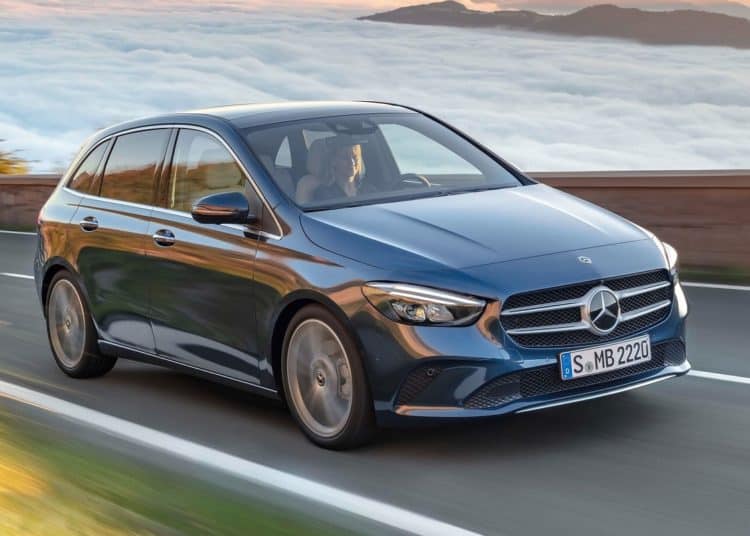 A few months after the local release of its fourth-generation A-Class, Mercedes-Benz has revealed the new B-Class compact MPV.
For those who find Mercedes-Benz's latest styling language appealing and desire the contemporary digital technologies which are now available in the three-pointed star's smaller cars, B-Class is a perfect solution for families.
Whereas the A-Class is marketed at individuals, B-Class is unambiguously a family vehicle with an array of clever packaging details. Mercedes engineers have managed to design a rear-seat fitment which allows the bench to move 140mm horizontally, which in turn converts the standard 488-litre luggage space to an enormous 705-litres.
The front seats now feature an optional massaging function too, ideal to soothe fatigue during a long journey, or when stuck in traffic.
Compact MPVs have fallen out of favour in recent times, with their odd proportions classed as undesirable by consumers who have an insatiable longing for SUVs. Mercedes has managed to shape and detail the B-Class exterior in such a manner that it looks decidedly less like an A-Class van, and more like a spacious, stylish, urban family car.
Powering the new B-Class are a range of 1.5- and 2-litre engines, both diesel and petrol fuelled. The larger capacity 2-litre is available in two outputs, 110- and 140kW, driving the front wheels through an eight-speed dual-clutch transmission.
The smaller 1.5-litre engine produces 85kW and uses a seven-speed dual-clutch gearbox. For those who prefer unleaded power, the 1.33-litre turbo petrol boosts to either 100- or 120kW and also uses a seven-speed dual-clutch.
Aware that its B-Class customers are most likely to be burdened by boisterous children whilst driving, Mercedes has included its MBUX user interface for the 'Benz minivan.
This allows for voice prompting to control specific infotainment functions, which means to can keep your hands on the wheel, whilst concentrating on the road, instead of fumbling for entertainment settings to appease the little ones.
Best of all is the MBUX system's ability to learn user preferences and thereby tailor infotainment to the taste of an owner/driver who regularly uses the vehicle.
Drivers who enjoy a higher seating position, for the placebo sense of security and visibility, it provides, will find B-Class superior to A-Class in this regard too, as the former positions its driver 90mm higher.
Help support journalists, the guardians of independent journalism, through our student media initiative that gives a voice to students and their generation! Find out more…