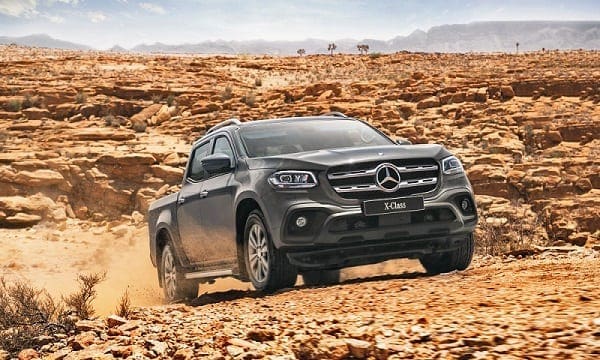 South Africa is one the world's most competitive bakkie markets. Nearly a third of all new vehicles sold locally are bakkies. From double-cabs which repurpose as family vehicles to game lodge guest transport and crucial small business logistics solutions, South Africans are serious about their bakkies.
Little surprise that esteemed luxury car brand, Mercedes, has now introduced a double-cab bakkie of its own to the South African market. It might be viewed as an unusual business strategy for a brand renowned for its limousines and AMG performance cars, but Mercedes became aware that double-cab bakkies are no longer cheap utility vehicles.
As the pricing for double-cabs surged past R600 000 two years ago, Mercedes decided it was a market worth entering. It's X-Class double-cab bakkie is a joint-venture project with Nissan, which has been the source of some controversy. Although X-Class and the Nissan Navara share a similar ladder-frame platform, the Mercedes bakkie features a wider track and additional strengthening.
The extra chassis bracing was required because the range-topping X-Class cradles a 3-litre V6 turbodiesel, whilst the largest Navara engine is a 2.3-litre four-cylinder. The 190kW V6 Mercedes will only become available early next year.
For 2018 X-Class mirrors its Navara platform partner in terms of power and drivetrain options, with both 120kW/403Nm and 140kW/450Nm versions of the 2.3-litre turbodiesel available. Gearboxes are either a six-speed manual or seven-speed automatic, with low-range and a rear-differential lock available for serious off-road work with the all-wheel drive X-Class derivatives.
Mercedes had specific cabin comfort targets for X-Class and the claim that it is the quietest double-cab now on sale isn't mere marketing doublespeak. Customised sound and vibration calming materials are part of the nearly 200kg weight difference between Navara and X-Class, which mean the Mercedes is marginally slower compared to most of its rivals, performance blunted by the extra weight.
Graded in capability the range-topping X250d 4×4 auto can tow 3500kg and carry 1100kg in its loadbin. It's an impressively styled vehicle and sharing the Navara's coil-sprung rear suspension, X-Class offers superior ride quality and gravel road stability compared to market leaders such as Toyota's Hilux and Ford's Ranger, both of which ride on a more traditional leaf-sprung rear axle.
Safety specification is especially impressive with X-Class, it's cabin boasting no less than seven-airbags and a braking system capable of emergency autonomous intervention – if the X-Class senses a slowing or static object in the road.
A more diverse bakkie market is welcome for South Africans, increasing competition and driving innovation – which ultimately delivers better technology and a wealth of features. Mercedes-Benz is a leader in automotive technology and X-Class could become a conduit for many sophisticated passenger car features to attest in the bakkie market. Where X-Class does perhaps have a weakness, is its pricing.
The most affordable X-Class is a mid-specification X220d 4×2 manual, which at R642 103 is more expensive the highest specification Hilux or Ranger 4×4 automatic double-cabs – both of which feature more powerful engines. At the higher-end of the X-Class range is X250d 4×4 auto, which retails for R818 340, breaking the psychological R800 000 barrier, but also more expensive than its German rival from VW, the Amarok V6 – which is the most powerful diesel bakkie on sale in South Africa.
X-Class will test the market's appetite for a premium priced bakkie with the most recognised automotive badge in the world. If you are a Mercedes SUV owner who requires something with a bigger load-bin to accommodate the mountain bikes or other outdoor toys, X-Class is a premium solution to your premium lifestyle choices.
X-Class X220d 4X2 Progressive (manual) – R642 103
X-Class X250d 4X2 Progressive  (auto)  – R694 025
X-Class X250d 4X4 Progressive (manual)- R696 785
X-Class X250d 4X4 Progressive (auto) – R723 810
X-Class X250d 4X4 Power (manual) – R791 315
X-Class X250d 4X4 Power (auto) – R818 340
Help support journalists, the guardians of independent journalism, through our student media initiative that gives a voice to students and their generation! Find out more…Tags: mercedes