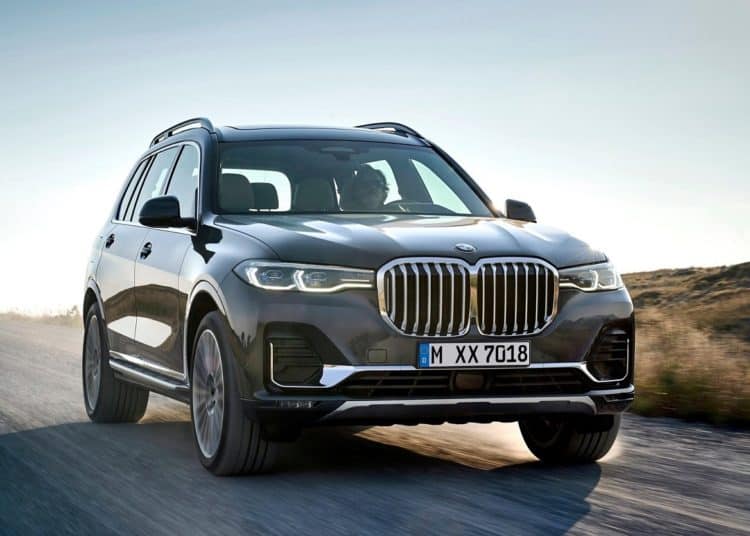 BMW has finally revealed the 7 Series SUV and it is enormous. The keenly anticipated X7 is BMW's largest ever SUV and to give some impression of its scale, this German seven-seater is larger than a Range Rover.
Its size
At 5150mm the X7 happens to be an entire 265mm longer than BMW's X5, enabling third-row passengers to be seated in relative comfort. All seats are electrically powered too, for added convenience and ease of ingress and egress.
A three-piece panoramic glass roof allows X7's passengers to manage the volume of ambient light they wish to enjoy. This feature could be amazing when driving at night, through the Karoo, allowing those not behind the helm to look up and marvel at a magnificent starry sky.
Its style
Graded as a design the X7 is perhaps BMW's boldest statement in decades. Styling details are unrelated to BMW's other SUVs and anchored by what the company claims are the largest kidney grilles it has ever applied to any of its vehicles.
Its speed
When X7 goes on sale in South Africa during March of 2019, there will be two engine options on offer – both turbodiesels. The xDrive30d derivative is powered by BMW's venerable three-litre in-line six, boosting 195kW and 620Nm, which should be good for 0-100kph in 7 seconds.
For those who require greater performance, BMW will also market the X7 M50d locally, featuring a quad-turbo evolution of the same three-litre in-line six structure. Benefitting from four turbochargers, the X50d produces 294kW and 760Nm, which converts to 0-100kph in 5.4 seconds.
All X7s are configured to be permanent all-wheel drive and shift through an eight-speed automatic transmission. BMW will offer a range of off-road appropriate packages for X7, with selectable drive modes (managing throttle response and gearing for sand, snow, rocks or mud), underbody protection and external cameras which assist the driver when manoeuvring in challenging terrain.
Its suspension system
Although X7's air-suspension system should benefit it greatly when attempting journeys with an off-roading component, the 80mm of ride-height adjustability and active ride control will perhaps be most beneficial in smoothing out South Africa's roads in general.
In a time of record fuel prices and anti-diesel sentiment, it appears strange that BMW has announced X7 without any hybridisation or battery-powered options. Those, we understand, are only a matter of time – as the X7's platform has been designed with hybridisation and electrification in mind.
Help support journalists, the guardians of independent journalism, through our student media initiative that gives a voice to students and their generation! Find out more…Tags: BMW