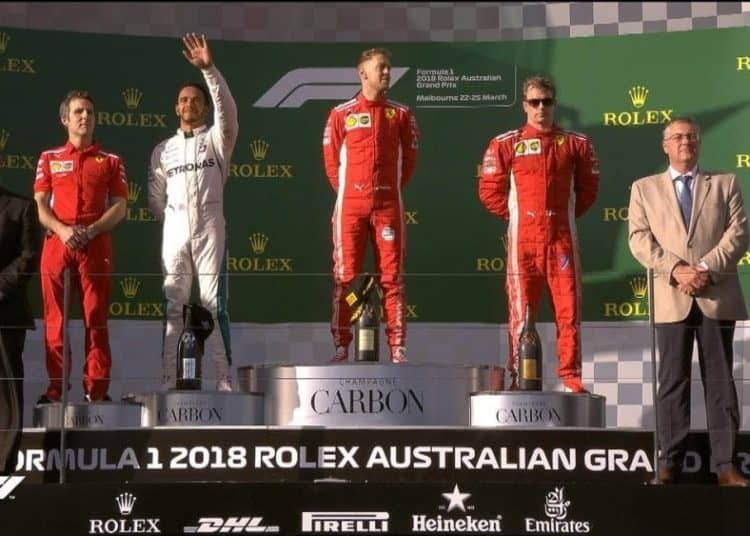 A subdued Lewis Hamilton admitted he had been lucky Monday after taking the drivers' championship lead with his opportunistic victory in Sunday's chaotic crash-strewn Azerbaijan Grand Prix.
There were no whoops of delight and no celebrations following his first win in seven races dating back to last October, but a serious realisation that he and his Mercedes team have their work cut out to stay on top.
On a day of gusty wind, unlikely accidents, abandoned debris interventions and two safety cars, the defending four-time world champion had struggled for pace, but avoided serious trouble.
While his team-mate Valtteri Bottas fell victim to a puncture caused by a piece of metal debris and title rival Sebastian Vettel of Ferrari out-braked himself in a wild lunge for glory, Hamilton tip-toed through the mayhem.
As Red Bull's two battling tyros Daniel Ricciardo and Max Verstappen resolved their tussle by crashing and others banged wheels, hit walls and ran off, the 33-year-old Englishman relied on concentration and perseverance.
"I remember my dad always told me 'never give up, always keep going'," he said afterwards as others wept and argued. "I never expected it, but I had to take it.

"Valtteri deserved to win. That's why I went to see him and console him straight after the race. He was so unfortunate."

It was Hamilton's 63rd victory and curiously confirmed that he is not racing with the same raw elan as his youth, but with a more measured sense of craft and aplomb – a mixture that may be less spectacular, but could assist him more in gathering the points for a fifth title.

He knows, however, that in Sunday's race he was hardly the leading man and that his car was unable to match the Ferraris in an unpredictable contest that maintained the craziness of the season to date.

"That was just a brutal race and it was probably exactly what the fans want to see at a Grand Prix," said Mercedes boss Toto Wolff.

"It was twists and turns at every point."

As the teams packed up to return to Europe and the Spanish Grand Prix next month, it was clear to Hamilton and Wolff that they need to find an upgrade for their car that makes the tyres work faster.

"We've got a lot of work to do, definitely," said Hamilton.

"We are still behind. Today I was lucky. I struggled all weekend and I am struggling to find the car's potential. Their pure pace is ahead of ours at the moment.

"There were a lot of faults in the race, which is rare for me. I struggled with the car, struggled with the tyres.

"I've definitely got to go away from here and work even harder to make sure that there's not a repeat performance-wise of this weekend."

"The biggest issue is the tyres," he added. "I don't believe their car is much better than ours, if at all, it's just that they are using their tyres better."

Wolff added that the next race in Barcelona may be a key pointer.

"We didn't have the pace we needed," he said.

"Whatever the reason, Ferrari currently possess a faster package. They are quickest so Barcelona will be interesting because we were quickest there in testing."

Help support journalists, the guardians of independent journalism, through our student media initiative that gives a voice to students and their generation! Find out more…Tags: F1Lewis Hamilton