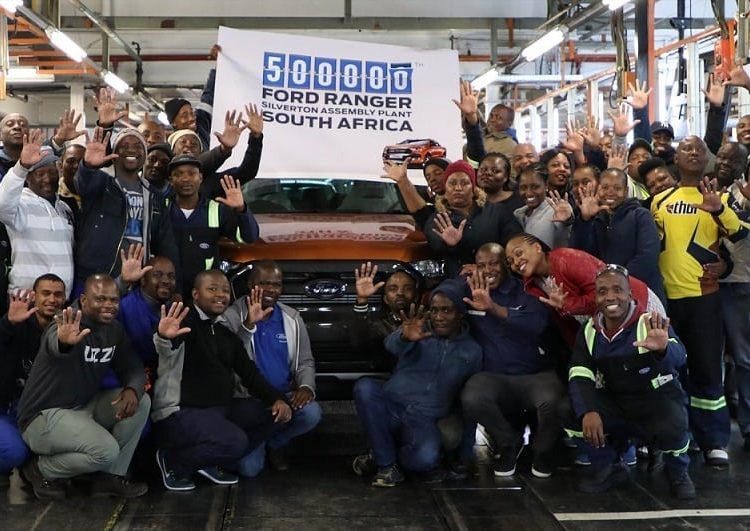 In a time of Rand weakness and uncertain manufacturing policy, Ford's Ranger bakkie is a hopeful instance of successful local industrialisation.
South Africa has two production sites for the Ford Ranger. It's Silverton plant in Tshwane assembles complete bakkies, whilst engines are built in Port Elizabeth, at the Struandale facility. Over the years Ford has invested handsomely to ensure that it can continue producing Rangers of the very highest quality, for both local buyers and the increasingly competitive international export market.
As bakkies have become the most dominant vehicle class in South Africa, Ford's Ranger product portfolio has become increasingly relevant. With a huge range or derivatives, there is a Ranger bakkie for every possible eventuality, whether you seek a robust construction site workhorse or prefer a luxury double-cab as your adventure family vehicle.
Ford has now produced its 500 000th locally built Ranger and it was quite fittingly a Wildtrak version, finished in signature Pride Orange and powered by the 3.2-litre five-cylinder turbodiesel engine. Confidence in its South African operations are unaffected by the general malaise which afflicts much of the local manufacturing industry, with strong domestic demand for its bakkie products and a healthy export order book hedging the business strategy.
The financial commitment to Ranger production has been substantial. During the ramp-up phase Ford spent R3bn to get Ranger launched locally in 2011 and that was followed by another R3bn investment in 2017. In times of Rand weakness Ford South Africa has the agility to configure Ranger production for its export requirements, benefitting from the more favourable exchange rate.
Ranger's best export performance was in April of this year, when 8062 bakkies were built in Silverton, and shipped to customers in Africa, Europe and the Middle-East. Bakkies are the best business to be in for a vehicle manufacturer with South African operations. Ford's tally of 500 000 Rangers in only seven years is evidence to what can be achieved in terms of local production efficiency and excellence.
Help support journalists, the guardians of independent journalism, through our student media initiative that gives a voice to students and their generation! Find out more…Tags: bakkieFord