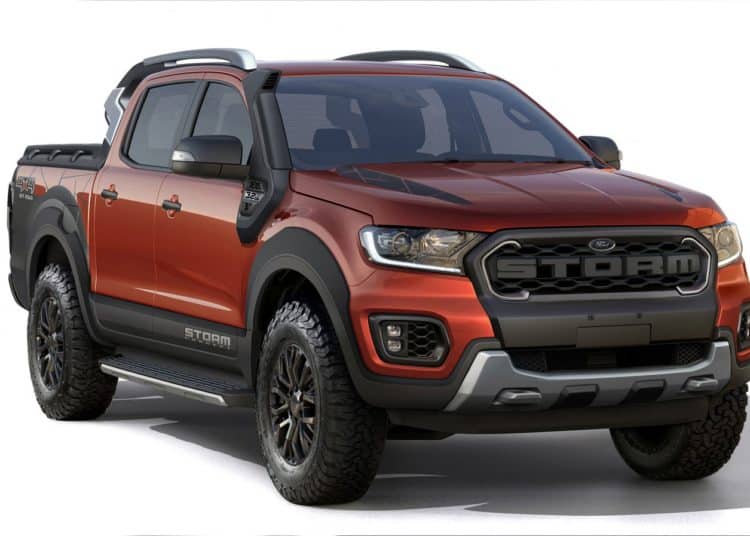 South Africa's second best-selling bakkie is Ford's Ranger and its status edition version, is the Wildtrak – which headlines the local product portfolio. But what if there was a more affordable special edition Ranger available?
A clue to Ford's thinking around this issue was revealed at the Sao Paulo auto show, this week. It's a concept double-cab bakkie called the Ford Ranger Storm and features a selection of overlanding accessories.
The platform for this show car concept is a conventional 3.2-litre turbodiesel double-cab. That means a proven five-cylinder diesel engine boosting 147kW and 470Nm. Feeding air to that engine is a grille which features enormous 'STORM' lettering, leaving nobody in doubt to the naming convention of this special edition Ranger.
Although the redesigned STORM grille might be a touch less efficient in allowing air to the engine bay – with those huge letters blocking the flow – Ford has mitigated the issue with a snorkel. Most novice off-road enthusiasts assume that a snorkel's sole purpose is to ensure your engine keeps breathing, and bakkie running when fording a water obstacle. This is partly true, but the snorkel also helps a vehicle run safer in extreme heat conditions.
Scooping and channelling airflow at roof height is slightly cooler than ingesting air just above the bumper. On a sweltering day crossing the Kalahari Desert or speeding through the Karoo, a snorkel's cooling induction function makes a substantial difference to managing engine temperature.
Most of the Ranger Storm's other upgrades are cosmetic. There's black plastic cladding around the wheel arches, which are an exposed protrusion of bodywork usually first in line for damage when navigating narrow off-road routes.
An interesting design feature is the roof rail extensions, which run beyond the rear of the cab, morphing into a pseudo roll-bar of sorts – complete with grab handle mouldings. Completing the Ranger Storm's list of upgrades are dedicated off-road tyres in the guise of Pirelli Scorpions, shod to 17-inch wheels.
Although this concept bakkie doesn't have an immediate production pipeline confirmation from Ford, it does tally quite a neat collection of off-road components and would make a worthy addition to the global Ranger product portfolio. Especially in South Africa, a market with robust demand for overlanding double-cab bakkies. Here's hoping.
Help support journalists, the guardians of independent journalism, through our student media initiative that gives a voice to students and their generation! Find out more…