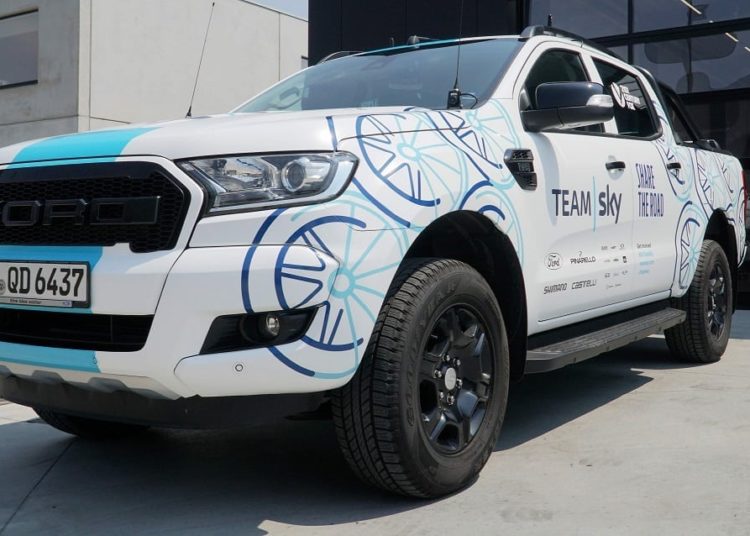 If you've been following the progress of Johannesburg educated Tour de France champion, Chris Froome, at this year's race, you might have noticed something different about Team Sky's support vehicle complement.
For decades the station wagon has been a default support car for teams at the world's most famous cycle race, driving impossibly close to the peloton, with doctors and mechanics occasionally hanging out of the windows to treat the weary, or repair bikes whilst on the move.
Many South Africans must ponder why none of the leading teams uses double-cab bakkies, which have a great deal more load carrying capacity and an elevated driving position, yielding a superior view of the road. That's exactly the logic Froome's team have applied for the 2018 Tour de France.
With Ford as a vehicle sponsor, Team Sky has added a Ranger double-cab to its support fleet. Although the Tour de France routes along some of the world's best and smoothest driving roads, the additional ground clearance of a bakkie means that if evasive action must be taken at low speed, Team Sky has a vehicle which can swerve off the road without consequence.
It's a road cycling reality that crashes do happen in the peloton, which forces riders immediately following wide of the collision zone, and all over the road. For support vehicles, the only place to go in such an eventuality is off the tar, often into a field.
In your average station wagon, that could mean a damaged bumper or ruined suspension. In Ford's Ranger, it's merely some routine gravel, sand or grass crunching – terrain that bakkies are designed for.
Despite his three Tour de France wins, Chris Froome returns to Johannesburg each year over the Christmas holiday to train in relative seclusion.
His experience on the challenging roads in and around Gauteng, where he used a Ford Everest SUV on his last training block for the 2018 Tour de France, obviously proved the merit of having a larger, off-road capable team support car.
For South Africans, the Team Sky Ford Ranger is evidence that bakkie logic is finally being vindicated in Europe, a market which had traditionally eschewed anything remotely associated with double-cabs.
Help support journalists, the guardians of independent journalism, through our student media initiative that gives a voice to students and their generation! Find out more…Tags: bakkieFord