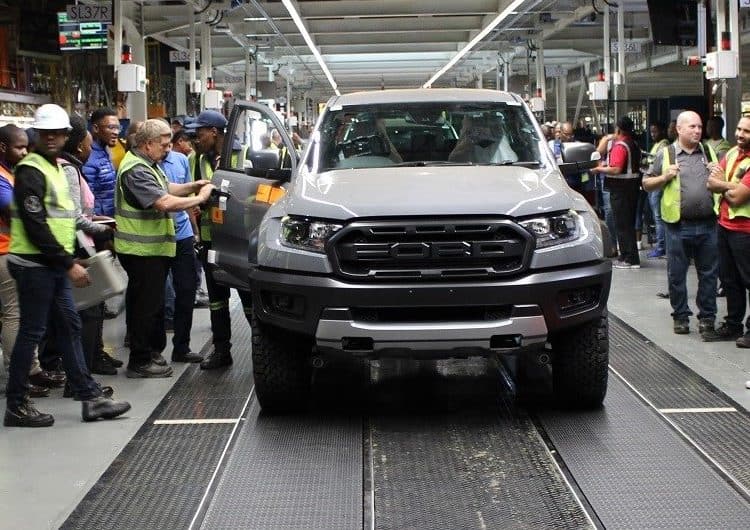 Ford commands a handsome portion of the local bakkie market, with the number of units delivered to South African dealerships rarely dipping below 3000 Rangers a month. Next year will bring an exciting addition to Ford's bakkie portfolio, with the Ranger Raptor, an off-road racing specification bakkie you can legally drive to work each day.
The Raptor's features
The Ranger Raptor features an amazing specification and off-road abilities way beyond any of its rivals. Although its engine is smaller than what would be the accepted norm for a high-performance bakkie, the 2-litre turbocharged diesel is good for 157kW and 500Nm. Those engine outputs are converted to forward momentum with a ten-speed automatic gearbox (yes, ten-speeds…) and the suspension is a custom development by Fox Racing Shox of California.
Local is lekker
Raptor will be the most sophisticated bakkie Ford has ever offered on sale in South Africa, but that doesn't mean it is imported. After a R160m investment and 18 months of dedicated industrial engineering, Ford has just built the first ten Ranger Raptors, as proof of its local production concept. That's correct, this ultimate off-roader's bakkie will be assembled at Ford's South African factory, located in Silverton, Pretoria.
The decision to produce Ranger Raptor locally for domestic demand is testament to both the importance and size of South African's bakkie market and Ford's confidence in its local engineers and technicians. With tooling trails validated with the assembly of these first ten Ranger Raptors, customers can expect excellent quality bakkies when they receive their units during 2019.
Domestic production of the Ranger Raptor is a logistically unique operation within South African vehicle manufacturing, with the main assembly and engine building facilities more than 1000km apart, in Silverton (Pretoria) and Struandale (Port Elizabeth), respectively. Despite this distance, Ford's slick local logistics enable those engines built at the coast to marry-up seamlessly with the Rangers assembled in South Africa's capital. Who said local engineering was anything else than world class?
Help support journalists, the guardians of independent journalism, through our student media initiative that gives a voice to students and their generation! Find out more…Tags: Ford