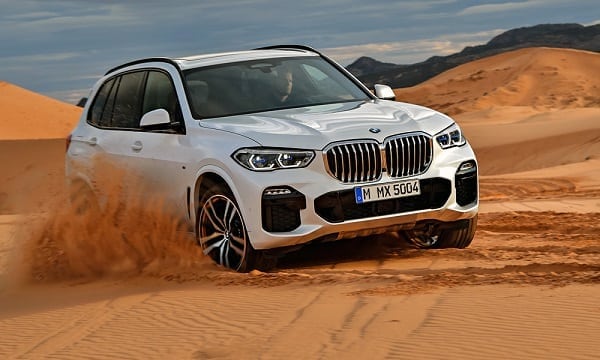 The latest version of BMW's original X-car has been revealed. Now in its fourth-generation, the latest X5 has grown longer by 36mm and incorporated a raft of technical upgrades.
Although the styling changes are evolutionarily in nature, not altering the distinctive X5 shape much, BMW's engineers have invested handsomely to deliver an impressive range of new features for the big Bavarian SUV.
The characteristic kidney grille has grown larger on this latest generation of X5 and it features active flaps too, which close when the engine does not require additional cooling airflow – thereby aiding high-speed aerodynamic efficiency.
Another upgrade which is nearly imperceptible, but will have an enormous influence on the passenger experience, is BMW's acoustic windscreen and side windows, which further isolates the cabin from wind and road noise.
Inside the most noticeable change are dual 12.3-inch displays, one serving as the driver's digital instrumentation and the other atop the centre-console, for use as navigation and general infotainment interfacing.
There's a powerful 1500-watt Bowers & Wilkins 20-speaker sound system too, specifically engineered for excellent sound register relating to the X5's cabin dimensions and materials.
BMW's renowned for its engines and when its new X5 goes on sale in South Africa by November, buyers will have an option on two diesel engines: the xDrive30d and X M50d.  Both derivatives are powered by the same 3-litre capacity turbodiesel, with the 30d boosting 195kW and 620Nm.
True to its M-division badging the M50d add quad-turbocharging to its 3-litre inline-six, delivering 294kW and 760Nm, which enables a very athletic 0-100kph sprint time of only 5.2 seconds, before reaching an electronically limited top speed of 250kph.
A strategic product goal with the development of this fourth-generation X5 has been improved off-road ability and to that end, there are now a range of features which have never been available on X5s before.
The most important amongst these is the presence of twin-chamber air-suspension, which can increase ground clearance by 80mm to an impressive 214mm when required.
Keeping the vulnerable undercarriage protected when navigating rocky terrain are under-guard plates for both the front and rear differentials, whilst a custom set of throttle and traction management algorithms provide optimal terrain management in all weather conditions.
Best of all is the presence of a rear differential lock, something which X5 owners with a sense of adventure could never imagine would ever become an option on BMW's big SUV.
Help support journalists, the guardians of independent journalism, through our student media initiative that gives a voice to students and their generation! Find out more…Tags: BMW