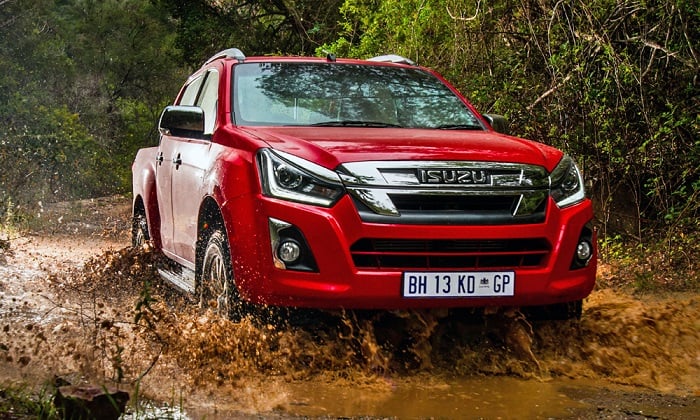 One of South Africa's most established bakkies has undergone a naming change and now features a broader range and upgraded equipment levels. Isuzu's KB will henceforth be marketed as D-Max, in-line with other global markets.
Isuzu has been producing bakkies in South Africa since 1978, and with its KB nameplate recognised as a bakkie institution and the Japanese company's aim is to leverage that local heritage within a retargeted marketing strategy. KB owners might feel some sadness concerning the end of KB, but with the updates applied to this new D-Max product portfolio, it's a case of progress being vindicated.
The Isuzu bakkie range swells to 30 derivatives with the change from KB to D-Max naming convention, and although the engines remain unchanged, there are some notable mechanical improvements. Isuzu will offer a dropside and flat loadbed configuration in single-cab, powered by both the low- and high-pressure turbocharged 2.5-litre diesel engines, boosting 58kW/176Nm and 100kW/320Nm respectively.
For commercial users, small business owners and farmers, the return of dropside and flatbed derivatives will be particularly welcome.
The other crucial change regards gearboxes paired with the LX grade D-Max bakkies. Isuzu has been criticised for only offering five-speed manual and automatic gearboxes, whilst most of its rivals have a spread of between six and eight gears. Rectifying this discrepancy are 3-litre engined LX derivatives, which now drive through six-speed manual and automatic gearboxes. The additional gear is sure to lower fuel consumption and improve in-gear performance, especially when towing or during demanding low-range off-road work, making the best of the 3-litre engine's 130kW and 380Nm.
In terms of styling the only cosmetic change distinguishing D-Max from KB, is a more stylized collection of grilles, which are chromed on the LX grade and black plastic on other derivatives. Cabin architecture doesn't alter radically, apart from some soft-touch material inlays and better infotainment systems, including a larger eight-inch touchscreen, which will be familiar to owners of the Isuzu M-UX SUV.
South Africa's bakkie market is brutally competitive and Isuzu has the distinction, and challenge, of possessing strong customer loyalty and expectation here. Hopes are that it should give a credible account of itself with the range realignment from KB to D-Max. The new D-Max range starts at R256 100 for the entry-level 250c single-cab base and peaks at R606 400, for 300 a double-cab LX 4×4 automatic.
Help support journalists, the guardians of independent journalism, through our student media initiative that gives a voice to students and their generation! Find out more…