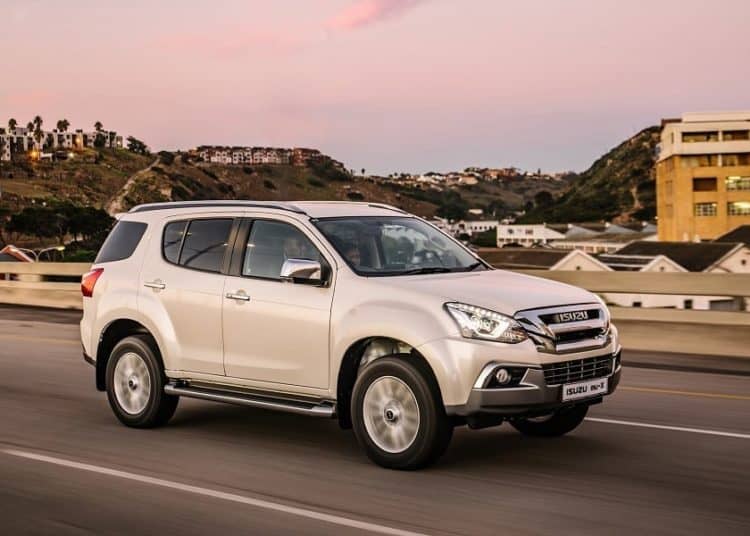 Isuzu is reinterring the South African SUV market. The Japanese brand, which inherited the General Motors production facility in Port Elizabeth after Chevrolet quit the local market last year, has finally introduced its MU-X seven-seater SUV locally.
The local market for bakkie-based SUVs remains tremendously strong. Toyota's achieved rampant success with its Fortuner (based on the Hilux) and Ford with Everest (developed from Ranger).
General Motors, with its Chevrolet brand, failed dismally to counter either of its rivals, despite marketing the Trailblazer as a true Fortuner and Everest alternative.
With Chevrolet no longer an entity in the South African market, Isuzu has chosen to bring MU-X here, finally, as a viable option for those who perhaps seek something different for the family's gravel travel requirements than a Fortuner or Everest.
The MU-X is an SUV version of the KB double-cab bakkie, and in Australia, it has proven very popular, incentivising Isuzu to consider the potential of launching it in South Africa.
Ironically, Isuzu started the entire bakkie-based SUV market with its Frontier in the late 1990s, but ceded the advantage to Toyota, who have absolutely dominated the market with Fortuner.
Could MU-X make more of an impact than Trailblazer ever did? Well, the vehicles are based on a similar structure but there is the heritage element of MU-X which should endear it more to South African buyers.
After decades of loyal service to farming and commercial customers, Isuzu is an established brand. The Japanese bakkie and truck company has been doing business in South Africa since 1964 and its vehicles are proven, and hence: trusted.
Mechanically Isuzu's 3-litre turbodiesel headlines the two-derivative range, with outputs of 130kW and 380Nm. Six-speed manual and automatic transmissions convert engine output to rolling momentum.
Torque is down by 50Nm compared to the Australian market MU-Xs, with a rerating required by South Africa's lower quality diesel. In other markets there is also a smaller 1.9-litre turbodiesel engine, which could in time become available locally too – expanding the range and broadening its affordability.
Capabilities are impressive with 230mm of ground clearance, a 600mm liquid wading depth and 3000kg towing capacity. Unfortunately, like the Chevrolet Trailblazer it effectively replaces, these Isuzu SUVs don't have proper locking rear differentials for challenging off-road terrain work, relying on a traction control system instead.
Pricing is just shy of Toyota's Fortuner, which dominates the segment. MU-X 4×2 retails for R568 000 and the 4×4 version, with low-range gearing, can be had for R629 100. Those prices are about 2.5% cheaper than the equivalent Fortuner rivals.
For your money Isuzu includes Apple CarPlay and Android Auto enabled Smartphone synching, linked to a 9-inch infotainment display, compartmentalised climate control, dual USB ports and leather seats.
There's a standard fitment rear field-of-view camera to assist with parking and the MU-X rolls on 18-inch alloy wheels, with Isuzu cleverly including a full-size spare wheel too.
Help support journalists, the guardians of independent journalism, through our student media initiative that gives a voice to students and their generation! Find out more…Tags: SUV