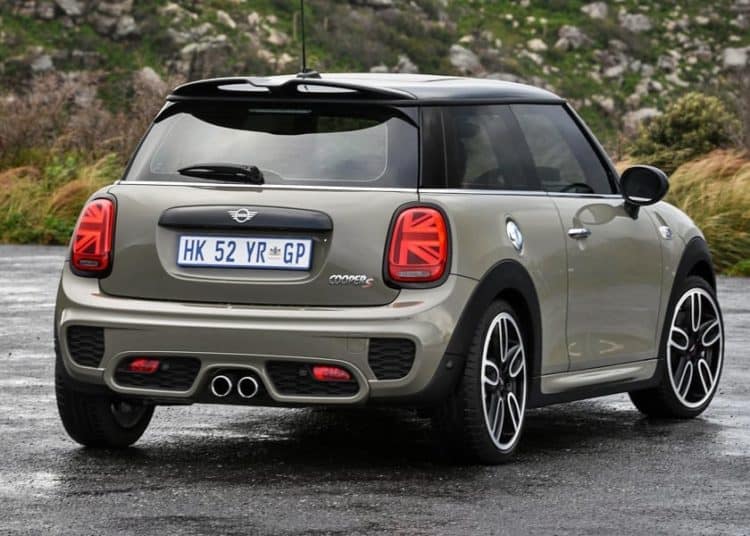 The brand of choice for successful designers and events coordinators has revealed its latest product portfolio updates for South Africa. An upgraded Mini range, 18 derivates strong, debuts in Mzansi this week and attempts to be more 'British' than ever.
Most noticeable on these new Minis are their redesigned lights, front and rear, with the latter featuring an intricate Union Jack design – homage to Mini's unquestionable British heritage, despite the company being BMW-owned.
The design theme is continued inside, with more Union Jack graphic embellishments, a 6.5-inch infotainment screen (upgradeable to a touch option), multifunction steering wheel and cabin lighting colour themes which change their hue, much like a lava lamp. For those obsessed about keeping their Smartphone healthy – and despite unsightly charging cables spiderwebbing everywhere – Mini now offers a wireless charging feature too.
Despite their artistic appearance, all Minis are dedicated driver's cars. Compact dimensions, featuring a relatively short wheelbase and wide track ratio, gift these hatchbacks impressive agility on the move.
Powering the new Mini range are a total of four engine options, in three configuration, with the smallest and most affable of those now being a 1.2-litre turbo, good for 75kW and 190Nm. Available in the Mini One, at R302 200, it should provide sufficient performance, even for those high-altitude motorists in Gauteng.
Most of the demand will for the Cooper, with its 1.5-litre three-cylinder engine, boosting 100kW and 220Nm, whilst those who desire a credible and engaging hot hatch could opt for the Cooper S, which adds handsomely to the 1.5-litre's outputs, peaking 141kW and 280Nm.
Headlining the range is Mini's respected John Cooper Works editions, which are true road racers, featuring a 2-litre turbocharged engine which produce 170kW and 320Nm. These JCW Minis are the very antithesis of style obsessed urban motoring and kerbside posing, instead being dedicated performance cars with a very deep well exploitable performance – for drivers sufficiently committed. Strangely, the Union Jack motif styling changed do not apply to JCW models, perhaps respecting their motorsport heritage.
Despite the cramped cabin and occasionally fiddly ergonomics – a result of a cabin designed for form instead of function – the Mini range remains the most successful retro rebirth of a motoring icon.
Pricing:
Mini One Hatch 3-door: R302 200
Mini One Hatch 3-door AT: R323 200
Mini Cooper Hatch 3-door: R370 300
Mini Cooper Hatch 3-door AT: R391 300
Mini Cooper S Hatch 3-door: R430 577
Mini Cooper S Hatch 3-door AT: R450 186
Mini John Cooper Works Hatch 3-door: R491 095
Mini John Cooper Works Hatch 3-door AT: R512 865
Mini One Hatch 5–door: R312 300
Mini One Hatch 5–door AT: R333 300
Mini Cooper Hatch 5–door: R380 400
Mini Cooper Hatch 5–door AT: R401 400
Mini Cooper S Hatch 5–door: R441 057
Mini Cooper S Hatch 5–door AT: R459 780
Mini Cooper Convertible: R423 200
Mini Cooper Convertible AT: R444 200
Mini Cooper S Convertible: R496 836
Mini Cooper S Convertible AT: R515 559
Help support journalists, the guardians of independent journalism, through our student media initiative that gives a voice to students and their generation! Find out more…Tags: BMW