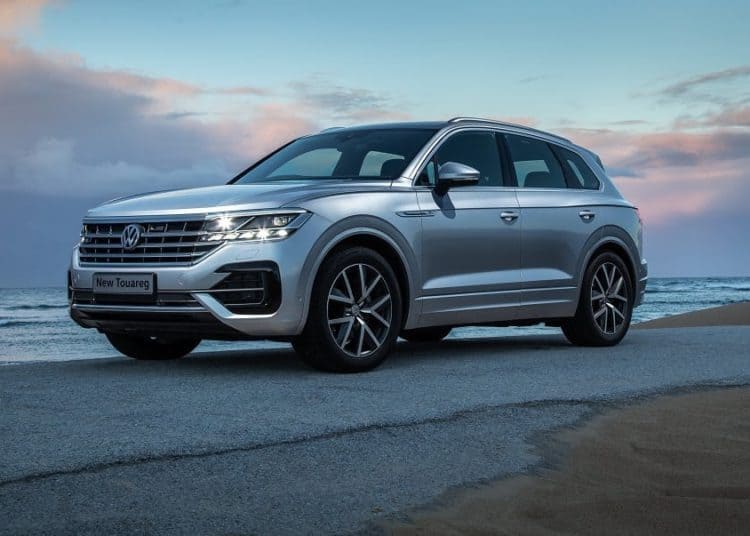 The third-generation Touareg launches in South Africa this week and establishes its status as the most expensive car in VW's portfolio.
Sharing the latest Group VW large SUV platform with Audi's Q7, new Touareg features a distinctive wraparound grille and sleeker styling, designed to mask its size – which is 77mm longer and 44m wider than before.
Despite being larger, clever engineering and advanced metallurgy have enabled it to lose a smidge more than 100kg in mass too, aiding dynamics and lowering fuel consumption.
Unlike some of its rivals, Touareg is configured purely as a five-seater luxury SUV, sacrificing seven-seater status for enhanced luggage capacity, which is an impressive 810-litres. Those rear seats prioritise comfort too, with 160mm of fore/aft adjustment and up to 21-degrees of recline.
The cabin architecture is a blend of luxury leather and veneer craftsmanship, interspersed with the latest digital comfort and convenience features, including infotainment screens which tally to a striking 15-inches in diameter.
Powered by a single engine option, VW's 3-litre V6 turbodiesel, performance is moderated by an eight-speed automatic transmission. The V6 boosts to a peak power figure of 190kW, accompanied by 600Nm of torque, with performance being more than adequate.
Cruising range is greatly improved too, with the fuel tank capacity increased by 15 units to a total of 90-litres.
Touareg's appeal is as an all-terrain cruiser, with adequate off-road ability when required.
A must-have optional extra is an air-suspension system which both revolutionises the VW SUV's ride quality and provides 70mm of additional ground clearance when required.
Active safety technology is notable with a host of factory fitted intervention systems, including adaptive cruise control with automatic braking.
Of specific value to South African drivers will be Touareg's night vision technology, which spots and highlights pedestrians and animals beyond the view of those 256 combined LEDs which illuminate the road up ahead.
In a country where pedestrian fatalities are far too high, and wild animals regularly cross roads at night, Touareg's night vision thermal imaging system is of incalculable benefit.
3.0 V6 TDI 190kW (Luxury) R999 800
3.0 V6 TDI 190kW (Executive) R1 088 200
Help support journalists, the guardians of independent journalism, through our student media initiative that gives a voice to students and their generation! Find out more…Tags: SUVVW