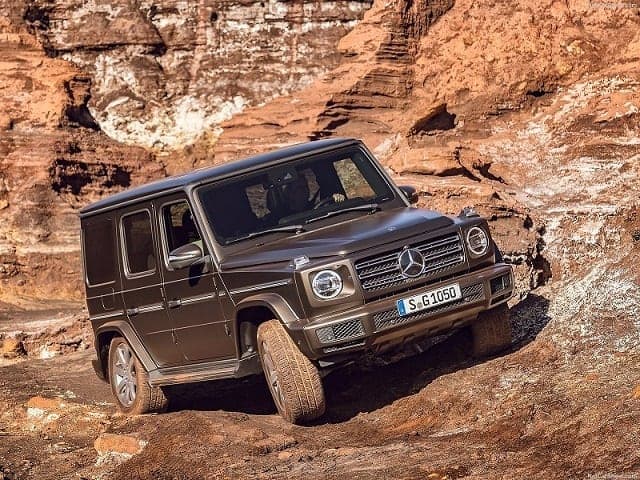 AMG powered G-Class SUVs sell in nearly disproportionate numbers to the more 'regular' Geländewagens. Whereas the G-Class was originally designed to transport NATO military officers around Cold War Berlin and help them organise divisions in the field if that conflict ever thawed to hostility, contemporary G-Class owners see them as performance SUVs with retro styling.
Mercedes-Benz has been awfully keen to profit from the design appeal of is G-Class, which was styled in the late 1970s and as such, looks like nothing else.
The 2018 redesign has left appearance mostly unaltered but brought with it proper rack-and-pinion steering and replace the solid-axle front suspension with double-wishbones. These changes massively both improve high-speed stability and directional agility.
With the new G-Class being steering better than any Geländewagen before, AMG had an opportunity to transform it into a staggering fast high-speed capable SUV.
Powered by a 430kW version of the 4-litre bi-turbo V8, G63 AMG uses its permanent all-wheel drive to deliver startling acceleration. The 0-100kph performance benchmark is dispatched in a mere 4.5 seconds and a top speed is 240kph.
Off-road it holds its own like any G-Class should, with low-range gearing and three-differential locks. With all that AMG power the G63 should make for an awesome dune raiding SUV.
If you are a keen sand driving residing in Namibia or the Northern Cape, this is most certainly the Mercedes-Benz SUV for you.
Beyond the massive power output and characteristic AMG soundtrack, provided by those dual side exit exhausts, new G-Class is roomier than before, with 150mm more legroom for rear passengers.
All seats are fully climate controlled too, which means they cool you in summer and heat one in the dead of a Highveld winter too.
A full swathe of digitised infotainment has finally replaced the analogue instrumentation in G-Class, with two 12-inch touchscreens keeping the driver informed and passengers entertained.
International sales commence late this year and South African buyers should have option on the new Geländewagen by Q4 2018.
Help support journalists, the guardians of independent journalism, through our student media initiative that gives a voice to students and their generation! Find out more…Tags: mercedesSUV