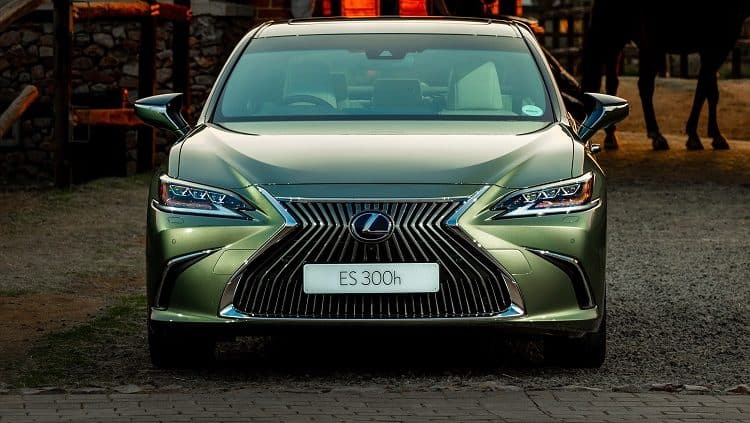 Toyota builds quality with American market comfort and convenience features. This is the formula which made Lexus the breakthrough Japanese luxury car brand, where all other Asian rivals have failed.
In South Africa, it is the only Asian large sedan alternative to the German establishment. The latest attempt by Lexus to woo customers who don't want a German badge or an SUV vehicle configuration is the seventh-generation ES.
Beneath its dramatic styling, most noticeable being that enormous front grille, the new ES rides on a completely redesigned platform and continues the Lexus traditional of hybridisation as a drive option. What does make it different, compared to its European rivals (bar Volvo's S90), is the front-wheel-drive configuration. Lexus isn't marketing the ES as a sport sedan, but rather as an extremely cosseting luxury car – and to that end, front-wheel drive means a lot less of a compromise with boot space, especially when you must accommodate batteries for the hybrid system onboard too.
The range is only two derivatives strong, with an ES250 EX pricing at R593 300 and the ES300h SE graded at R843 800. Powering the ES250 is a 2.5-litre naturally-aspirated four-cylinder engine, good for 152kW and 243Nm. More interesting is the ES300 hybrid which combines that same engine with an integrated hybrid system which boosts output by 8kW to a peak of 160kW.
Lower fuel consumption is the consummate goal of Lexus with its ES300h and with the electric drive system capable of moving ES along in bumper-to-bumper traffic, the combined fuel cycle figure of 4.6l/100km is deeply impressive. Unlike most other cars in class, top speed is limited to a maximum velocity of 180kph.
As one would expect from the comprehensive specification associated with Lexus vehicles, there are few available options with the new ES range. Most comfort, convenience and driver assistance items are standard and there is voice prompting for many of the infotainment functions too – if you prefer to keep both hands on the helm whilst driving.
Achieving the goal of building a mid-sized luxury sedan which is whisper quiet on the go, the ES uses advanced construction and engineering techniques to ensure it is as silent as possible on the move. A laser screw welded structure improves rigidity, which means all those suspension and steering components work within perfect tolerances of each other, even on bumpy roads.
Help support journalists, the guardians of independent journalism, through our student media initiative that gives a voice to students and their generation! Find out more…