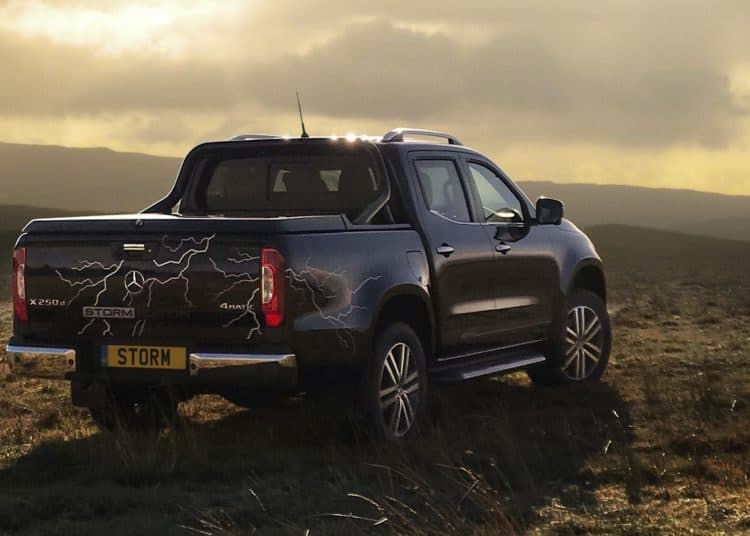 In a market unknown for its double-cab bakkie following, Mercedes-Benz has announced the first special edition X-Class, aimed at buyers in the United Kingdom.
As part of the global retail mania which is due this Friday, Mercedes is embracing Black Friday too, and this marketing initiative doesn't concern one of its S-Class limousines or AMG performance cars.
Mercedes-Benz's Black Friday deal applies to the brand's new double-cab bakkie range and it is called the Storm Edition, set to launch this coming Friday. Evolved from the X250 bakkie platform, these Storm Edition double-cabs incorporate a raft of styling upgrades.
Accessories added from the Mercedes X-Class parts-bin include a tonneau cover and a rubberised bed liner to protect the surface metal from sharp loads which might roll around during intense braking or acceleration. Chromed side-steps assist with ingress and egress of the cabin by passengers and inside the X-Class Storm Edition has velour floor mats.
Most of the bits Mercedes have combined to deliver its Black Friday deal bakkie to market are readily available to any prospective X-Class customers. What isn't readily available in the Mercedes catalogue, is the Storm Edition badging and lighting graphics kit.
For decades Mercedes-Benz was the esteemed luxury German car brand, known for the integrity of its engineering and rather restrained product styling. In 2018 it is the automotive company with by far the broadest product portfolio and that lineage of conservative marketing and design no longer applies. With a contemporary Mercedes, anything is possible.
X-Class has been a new departure for Mercedes. Venturing into double-cab bakkies would have been an unimaginable journey for the German brand even as recently as a decade ago. Now, they're getting ready to clinch Black Friday deals and marketing double-cab bakkies with inelegant 'Storm' badges on the tailgate, surrounded by lighting graphics.
Currently only planned as an activation for the British market, one which is much smaller and less contested than the South African bakkie scene, this Storm Edition is a relatively low-risk venture for Mercedes. But should the world's original luxury vehicle brand really be engaging in Black Friday marketing activities?
Help support journalists, the guardians of independent journalism, through our student media initiative that gives a voice to students and their generation! Find out more…