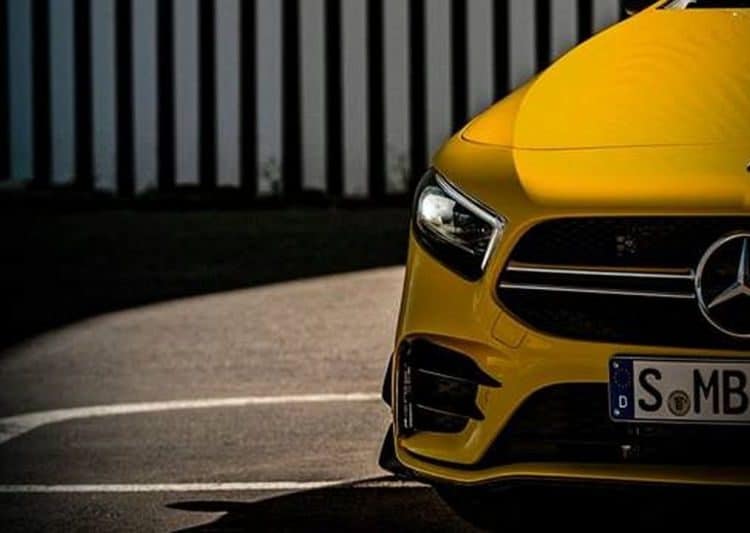 It takes a very committed owner to extract all the performance possible from AMG's phenomenal A45 hot hatch. With 280kW, the mini-AMG has proven to be an astonishingly quick compact car. Too quick, perhaps, for most drivers and driving environments
The latest generation A-Class, which went on sale in South Africa last month, meanS that a new fleet of hatchback AMGs are happening too. Expectations are that a new A45 will become the first hot hatchback to boost beyond the 300kW power ceiling, when it goes on sale next year.
What if you desire the inspired AMG styling of A45 and some of its terrific speed, but don't quite need all that power? Well, debuting at the Paris auto show early next month will be a solution to that conundrum, something from AMG called the A35.
The addition of this A35 nameplate to the fourth-generation A-Class product portfolio will balance Mercedes-Benz's hot hatch offering between the entry level A250 Sport and immensely accomplished A45. Think of A35 as a detuned A45. A more manageable car in most circumstances and crucially: a more affordable alternative to achieving AMG hot hatch ownership without paying the A45 premium.
Mercedes isn't quite willing to disclose exact specification or power outputs, but the 2-litre turbocharged engine should be good for more than 220kW and A35 will feature the same seven-speed dual-clutch transmission and all-wheel drive system as A45. In context of the market, A35 is a rival to cars such as Audi's S3, BMW's 140i and the VW GolfR.
AMG's marketing acumen is to be commended with A35. Since the launch of A45 back in 2013, AMG has realised that there is a huge opportunity for new product between the quickest non-AMG A-Class and A45. The crucial element in that equation has now been revealed as A35 and in a contest for truly useable high-performance family cars, AMG now has a real contender.
We'll have more complete images and full details for you in the first week of October, on the eve of the 2018 Paris auto show.
Help support journalists, the guardians of independent journalism, through our student media initiative that gives a voice to students and their generation! Find out more…Tags: AMGmercedes