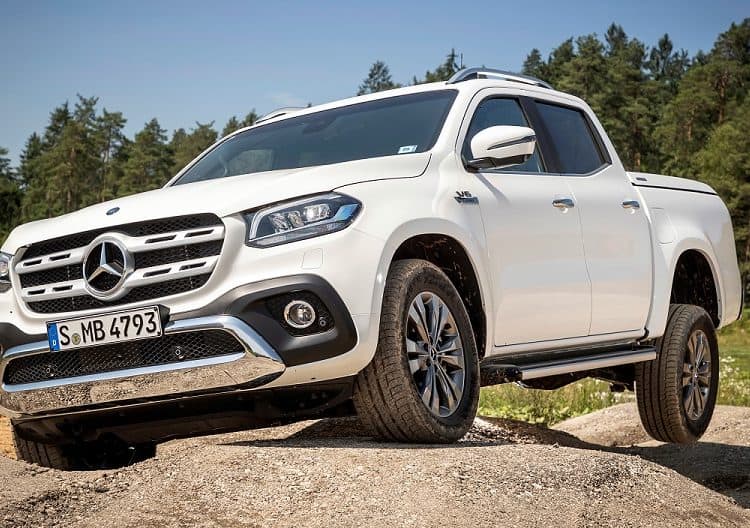 Double-cab bakkies occupy a unique position in South Africa, as both status family vehicles and workhorses, and none are more inclined to status than Mercedes-Benz's X350d.
The apex product in Mercedes-Benz's X-Class product portfolio, X350d's status is reflected in its pricing, which makes it the dearest double-cab to be marketed in South Africa.
Due for delivery to local dealers this November, X350d can conceivably be considered the first true 'Mercedes' X-Class, as it is powered by a six-cylinder engine, built in Germany. All other X-Class models feature a Nissan sourced four-cylinder engine, which has thus far rankled the bakkie's image amongst Mercedes-Benz traditionalists.
Justifying its premium pricing, X350d ranks as the most powerful double-cab available in South Africa, producing 190kW and 550Nm from its 3-litre turbodiesel V6. With a seven-speed automatic transmission, those numbers convert to spirited performance, especially for a double-cab bakkie.
Mercedes claims X350d will run the benchmark 0-100kph sprint in only 7.9 seconds and record a top speed of 205kph. With low-range gearing and a surfeit of off-road diver assistance and traction mitigation systems, it also happens to be very capable when your journey routes away from established routes.
These V6 powered X350ds will be available in two specification grades. The Progressive derivative is marked for retail at R904 188, with a more luxurious Power version, priced at R973 188. Easily distinguishing the two grades are their wheel sizes, the Progressive X350d riding on 18-inch alloys, whilst the Power version rolls 19-inch wheels.
Since Mercedes confirmed that South Africa would be a destination market for X350d, speculation has been rife that it could become the first R1m bakkie, but this has not been the case. Technically. The X350d Power manages to avoid ballooning its launch price into seven figures by less than R30 000, although realistically, it could very well evolve into a mythical million Rand bakkie for many customers if they start adding options, of which there are many.
For potential X-Class customers who believe that a Mercedes double-cab should never be had with anything other than V6 power, X350 finally makes the three-pointed star bakkie a compelling option. For those who desire the cabin components of a mid-sized Mercedes passenger car and accompanying noise insulation quality, with the off-road ability of a 4×4 and bakkie loadbin utility, X350d will justify its premium pricing.
With abundant power, it makes for a very competent long-distance touring vehicle, especially considering the autonomous braking function, which seamlessly integrates with X350d's active cruise control, keeping you safer – especially when driving fatigue becomes an issue. Seven airbags line the cabin architecture too, making X350d one of the safest bakkies ever built.
Help support journalists, the guardians of independent journalism, through our student media initiative that gives a voice to students and their generation! Find out more…Tags: mercedes