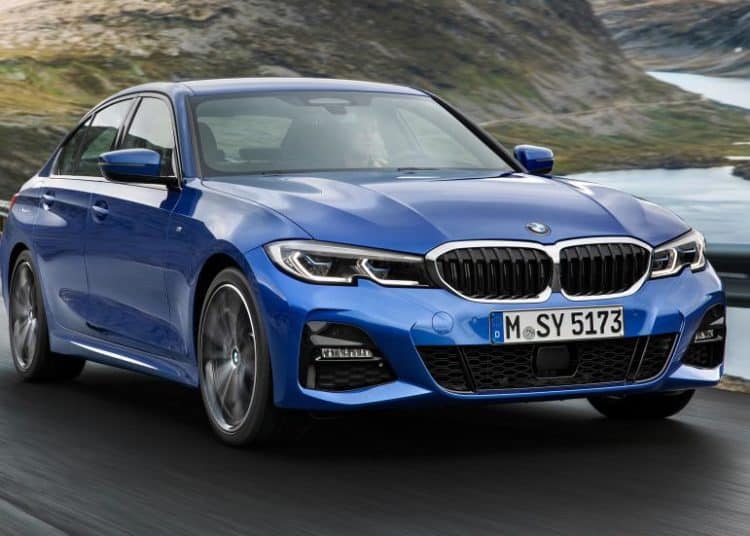 Amidst all the SUVs, battery vehicles and future mobility concepts a very important new car debuts at the Paris auto show this week. It's a new version of the traditional BMW family car, the 3 Series sedan.
The latest 3 Series is built on a new BMW cluster architecture and despite being 85mm longer and 16mm wider, it also happens to amazingly be 55kg lighter. Munich's finest automotive engineers have manged to save weight in many small increments, using advanced aluminium construction for the bonnet and certain suspension components. Packing is improved too and they've managed to enlarge the boot volume by a handy 36-litres.
Despite being larger the seventh-generation 3 Series hides its size well. The styling is evolutionary with its most notable detail being those new headlights, which sacrifice a fluid profile for something more edgy. The front bumper moulding is notably more aggressive too, with larger aero ducts.
The codename for BMW's latest 3 Series is G20 and inside the new car features a driver-centric ergonomic architecture. Digitisation is paramount to any contemporary vehicle and BMW's replaced all analogue instrumentation with digital readouts, whilst a 12.3-inch screen sits atop of the centre-stack, acting as the anchor infotainment interface.
BMW interior design has often been a study in the extreme art of simplicity and sombre German industrial design, yet G20 finally brings a new collection of shapes to the cabin – and differentiating materials too. Metal buttons lighten the overall 3 Series ambiance inside and this is the first 3 Series to forego a girdle operated parking brake, which means there is a lot more space between the seats for you to stow devices and snacks.
To ensure that 3 Series retains its fabled reputation as a driver's car for those who require a boot and four-doors, the new structure is 50% stiffer. Adaptive dampers collaborate with hydraulic bump-stops too, which should mean that a journey on badly surfaced roads is less noticeable to occupants than before.
Although BMW is yet to confirm exact engine details, expect a range of powerful 2-litre four-cylinder engines and a dedicated junior M-car sedan powered by an advanced version of the legendary 3-litre in-line six. All engines will be turbocharged and there should be a parallel choice between petrol or diesel in most capacities and cylinder counts. There will be a 330e plug-in hybrid too, for those who wish to start the transition towards electrification for their personal mobility.
Help support journalists, the guardians of independent journalism, through our student media initiative that gives a voice to students and their generation! Find out more…