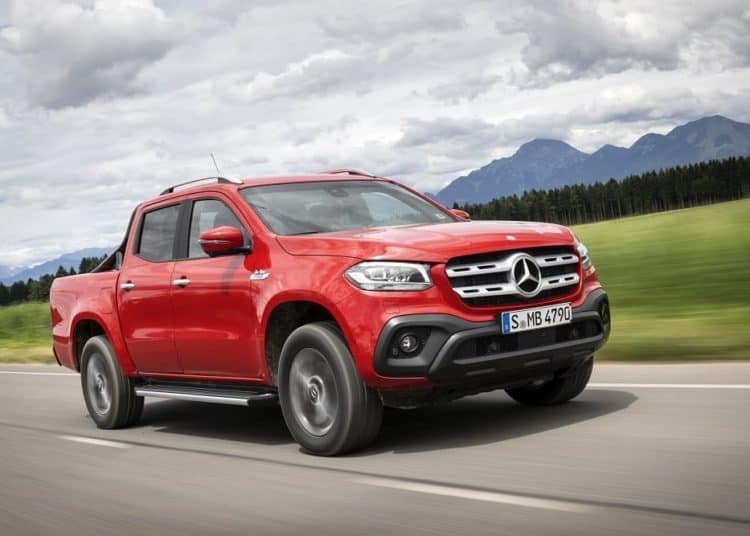 The X-Class bakkie range has been Mercedes-Benz's most keenly anticipated product debut in years. For sceptics it has also presented an opportunity to criticise the spate of joint-venture engineering projects proliferating within the global automotive industry.
In principle the Stuttgart bakkie shares a great many components with Nissan's Navara, including all the four-cylinder diesel engines, which are Japanese – instead of German. Mercedes fans interested in acquiring an authentic premium bakkie from the world's oldest luxury vehicle brand have been disappointed by the lack of German power in X-Class.
Good news is that early next year a solution will be in the offering, as X350d is launched in South Africa. Powered by a 3-litre turbodiesel V6, this latest version of the three-pointed star double-cab can be considered as Merc's truest bakkie yet. After some time behind the wheel of one, during the global launch Slovenia, we can confirm that although in appearance it is virtually indistinguishable from a four-cylinder X-Class, this V6 powered bakkie is a very different offering indeed.
Featuring an engine built in Berlin and powering all four-wheels via Mercedes-Benz's renowned 7G-Tronic automatic gearbox, X350d is a fitting highpoint to the range. Engine outputs are deeply impressive, with the V6 boosting peak numbers of 190kW and 550Nm. If the South African bakkie market remains as it is until X350d is introduced in Q1 of 2019, it will become both the most powerful and fastest bakkie on sale.
Although it's hardly light at 2285kg, the 3-litre V6 enables stellar performance. All-wheel drive helps it convert those 550Nm to a 0-100kph time of 7.5 seconds and if you deploy all 190 of those kilowatts in the correct gear, X350d will haul a true top speed of 205kph – acceleration and speed numbers once considered improbable, for a double-cab bakkie.
The cabin features an array of Mercedes-Benz componentry, including a sophisticated touchscreen infotainment interface and switchgear which should be familiar to C-Class owners. Unfortunately, there are ergonomics oversights, such as a steering wheel which is not reach adjustable. Refinement is one aspect where X350d is peerless. From the moment you start that large-capacity diesel V6, it's almost unidentifiable as a diesel by ear, thanks in part to the immense investment Mercedes has made to insulate the bakkie's cabin from engine, road and wind noise.
Although this V6 double-cab's primary purpose will be as a utility high-speed family vehicle, with the ability to haul awkwardly shaped and sized objects in the loadbin, X350d is credibly accomplished off-road too. The bakkies which are destined for South Africa will feature slightly more ground clearance (222mm) and better approach and departure angles than most other markets. With a lockable rear differential, low-range gearing and a diverse selection of electronically mediated throttle and traction control maps for every imaginable terrain, X350d will go wherever you could possibly desire.
Pricing remains in the realm of speculation but expect it to edge very near to becoming the first R1m bakkie to go on sale in South Africa, especially if current Rand weakness persists into 2019. For those Mercedes-Benz customers who value the status and technology of the German brand, it will no doubt be a fair price to pay for an X-Class double-cab which has a lot less in common with Nissan's Navara than any of the current four-cylinder X250d bakkies.
Help support journalists, the guardians of independent journalism, through our student media initiative that gives a voice to students and their generation! Find out more…Tags: mercedes