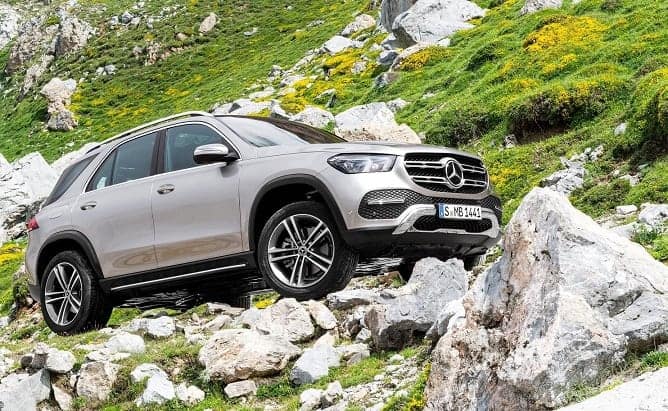 Mercedes-Benz is officially due to reveal its second-generation GLE at the Paris auto show in October, but the world's oldest car brand is so excited about the newcomer that they've done a digital debut ahead of time.
Technically this new large SUV is the fourth-generation ML, but since Mercedes-Benz's naming convention change of 2015, the E-Class based gravel traveller is known as GLE. Smoother styling hides the larger size, with engineers having added 80mm to the wheelbase.
A technological tour de force, the new GLE hides most of its most sophisticated engineering features such as a new hydropneumatic suspension system which can adjust damping and rebound individually for each of the four wheels. The benefit of this is that even on terribly surfaced roads, or gravel, the GLE should retain excellently cushioning ride quality.
Engines? Mercedes-Benz has only confirmed one engine thus far, a new turbocharged in-line six petrol, boosting to 270kW and 500Nm. It will power the GLE 450 and we expect it to be 3-litres in capacity. The entire GLE electric architecture is now 48-volt, enabling the fitment of an integrated starter/alternator unit, which can recuperate and redistribute electrical power. This not only drives the on-demand hydropneumatic suspension system but also adds 16kW and 250Nm when additional power is required during peak acceleration.
Beyond the impressive mechanical bits, GLE embraces Mercedes-Benz's latest cabin digitisation, with the MBUX system, comprising two 12.3-inch infotainment screens. Most information and entertainment functions are voice controllable too, with Mercedes-Benz having diligently engineered a robust level of agile interpretation to spoken commands.
As the off-road touring sibling of E-Class, one wold expect pampered occupancy inside new GLE and Mercedes has delivered exactly that. Second row occupants have the comfort of left and right seats being 100mm adjustable fore and aft. Luggage capacity has swollen by 135-litres too, to a total stowage volume of 825-litres.
For those keen on extending the GLE's off-road ability Mercedes will offer an optional low-range transfer case with lockable differential. Wheels size options are 18- to 22-inches, with the latter purely for style and the 18s for those who do a lot of gravel travel. The new GLE is expected to go on sale in South African during the first quarter of 2019.
Help support journalists, the guardians of independent journalism, through our student media initiative that gives a voice to students and their generation! Find out more…Tags: mercedesSUV