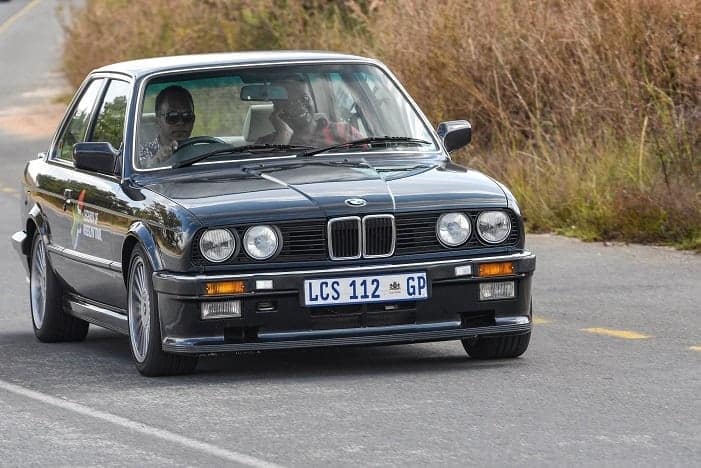 There is perhaps no other car which BMW South Africa has ever marketed that has quite the cachet and following of its numerologist's favourite: the 333i. A true African M3.
Produced in very limited numbers from 1985 to 1987, at BMW's Rosslyn facility on the outskirts of Tshwane, 333i remains the prototypical South African E30 series.
In theory it was a simple solution to an annoying expectation problem, BMW had just started marketing the first edition of its M3 in Europe, yet it was left-hand drive only – and therefore unsuitable to the local market.
Keenly aware of the premium South African BMW enthusiasts would pay for an 'African' specification M3, engineers at Rosslyn set about creating a uniquely localised alternative.
Whereas the global specification E30 M3 used a 2.3-litre four-cylinder engine, 333i was powered by BMW's legendary 3.2-litre inline-six, borrowed from the much larger 733i luxury sedan.
Beyond the engine there were Alpina cabin bits and perhaps the 333i's most notable feature: a five-speed gearbox featuring straight-cut gears and a dogleg first.
Peak power was 145kW, supported by 285Nm, and although that sounds rather underwhelming for a Germany performance coupe in contemporary terms, it was plenty back in 1985.
Committed to preserving and celebrating its African engineering and production heritage, BMW allowed its precious showroom condition 333i out for a day, and we were privileged enough to helm this priceless piece of South African motoring history.
Driving a 1980s performance car in 2018 enriches perspectives and generates immense appreciation and understanding for how amazingly evolved the current 3 Series is.
Despite seats that start numbing your lower back after an hour's driving and a chiming mechanical din which penetrates the cabin, fatiguing the mind into a light headache, it's a marvellously engaging driving machine.
The dogleg gearbox shifts with the mechanical weight and precision of a well-oiled sniper rifle's bolt action and once you are accustomed to the offset pedals, it's just a joy to row it through the ratios.
The engine's remarkable too. BMW's in-line sixes are its signature engineering achievement and the symmetry of sound and turbine smoothness would not be out of place in a modern performance car.
Then there's the steering which is power assisted, but hydraulically geared instead of electric, and as such it reverberates with continuous road surface feedback.
It might not have been a proper M-car, but for a generation of South African motoring enthusiasts, that never really mattered. It was our very own African M3, in all but name – and a merited equal, instead of a mere product solution substitute.
South African 3 Series production, which included the 204 333is, ended earlier this year with a grand tally of 1 191 604 vehicles being built.
All that expertise and engineering heritage is not going to waste, though, as the future of BMW South Africa's Rosslyn facility is now more secure than ever, with its new global production responsibility being the in-demand X3 SUV.
Help support journalists, the guardians of independent journalism, through our student media initiative that gives a voice to students and their generation! Find out more…Tags: BMW