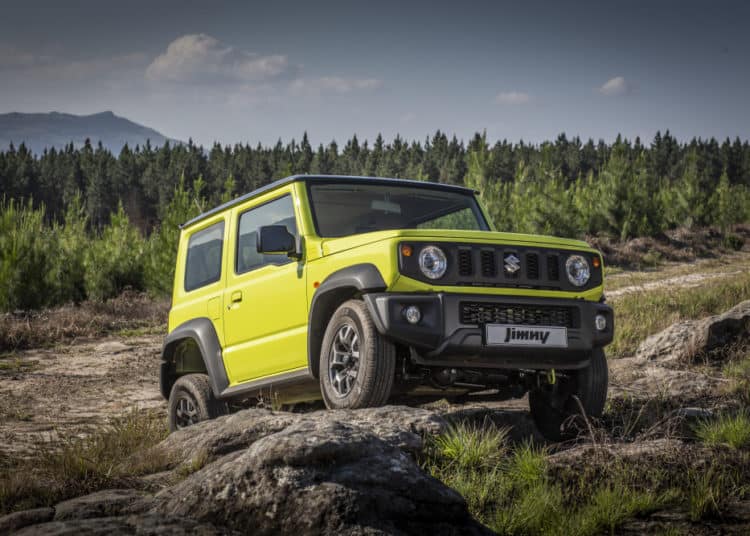 Forget about Ferraris or that latest Mercedes-Benz AMG, the most impressive status car this summer will be Suzuki's new Jimny.
The Jimny
After waiting nearly forever for a redesign, South African Jimny fans (and there are many), now have the option on three derivatives of the new mini 4×4. Although an all-new vehicle, it remains instantly recognisable in appearance with its round headlamps, square proportions and three-box silhouette. In terms of engineering and technical details, the new Jimny is a huge departure – and improvement – over its predecessor.
For Suzuki Jimny followers the tiny 4×4's off-road ability was never an issue, but its asthmatic highway performance, cramped cabin, aged ergonomics and absence of safety features started to compound over a 20-year lifecycle. The new Jimny has addressed all those issues and retained the brilliant gravel travel ability which Suzuki's most iconic vehicle has always been celebrated for.
Powering new Jimny is a 1.5-litre four-cylinder petrol engine, which although not turbocharged (like many other compact SUVs), does make 75kW and 130Nm. Those numbers are a notable improvement on the previous 1.3-litre engine, being nearly 20% more powerful.
For Jimny owners who are nervous off-road drivers, or those who face a heavily trafficked urban commute, there is finally an automatic transmission option. It might only a have four-speeds, instead of five, but the convenience of automatic shifting will make the Jimny much less of a chore to drive in traffic. For those who prefer absolute driving control, there is also a five-speed manual transmission.
Also read: Mercedes introduces SA's most expensive bakkie 
A larger cabin, with switchgear from contemporary Suzuki passenger cars, makes the Jimny interior a much more pleasant environment to journey in. The range comprises two trim levels, with high-grade GLX versions boasting a 7-inch infotainment touchscreen, electric windows, keyless entry and cruise control. A huge improvement over the previous model is the addition of electronic stability control, which makes the Jimny, with its relatively short wheelbase and high centre of gravity, a lot less worrying to drive at high-speed in extreme crosswinds.
Off-road the new Jimny does what many would consider impossible and improves on the nameplate's legendary backcountry all-terrain driving prowess. Ground clearance increases by 20mm, raising to 210mm, and the ladder-frame construction and rigid axle suspension configuration ensures that despite its size, it is a virtually unbreakable and mostly unstoppable exploration wagon.
Small but powerful
Lacking a large capacity engine, or one with a diesel compression ratio, the tiny Suzuki 4×4 has traditionally been tricky to pilot down extreme descents, due to a lower instance of available engine braking. To counteract this, Suzuki's added an electronically modulated hill-descent feature, which uses the Jimny's ABS braking system to limit descending speeds to a crawl of only 5km/h.
More refined and certainly more driveable over long distances than the previous-generation vehicle, new Jimny is a delightfully honest and credibly capable serious off-road vehicle. For those buyers who don't have a family to burden their journeys, it's the ultimate two-person off-road adventure vehicle. Happens to look great parked in an urban environment too. As we said: this is undoubtedly going to be the status car of South Africa's coming summer vacation season.
Pricing for the new Jimny starts at R264 900, for the 1.5i GA, followed by the better equipped GLX, at R299 900, and the range peaking at R319 900, for an automatic transmission GLX.
Help support journalists, the guardians of independent journalism, through our student media initiative that gives a voice to students and their generation! Find out more…