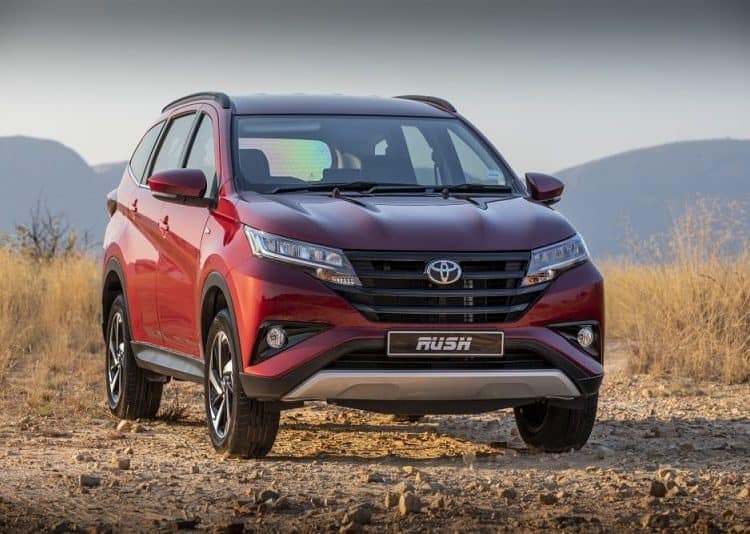 If you require a family vehicle capable of extensive gravel travel, Toyota's new Rush is an especially appropriate choice.
Launched this month, it gives Toyota yet another product within the company's immensely successful SUV/crossover portfolio. The Japanese brand dominates in South African and has virtually owned the family SUV market since it debuted Fortuner more than a decade ago.
For many South Africans a Fortuner, with all its space and robust gravel travel appeal, is beyond their financial means. To help more Toyota families fulfil their ambition of seeing the best that beautiful rural South Africa has to offer, is Rush.
Mechanically it's a reincarnation of a vehicle familiar to South Africans well versed in compact SUVs with proper off-road ability. Toyota owns Daihatsu and despite the Japanese compact car specialist having retired form the local market back in 2015, Rush effectively introduces the latest Daihatsu Terios to South Africans, with a Toyota badge. Local product planning has been particularly clever around Rush, choosing to configure it as a five-seater, instead of seven seats, and thereby optimising luggage space to an impressive 609-litres.
It's a very honest car at an attractive price of just shy of R300 000. Being rear-wheel drive in a segment where most of its rivals are front-wheel drive, Rush is also a great deal more capable on gravel roads, especially when muddy or sandy patches on your route challenge traction. Up a steep gravel mountain pass, with hairpin bends, the rear-wheel driven Rush will easily outperform most comparative front-wheel drive SUVs.
Not a dedicated off-roader, it's more a family car with ample ground clearance (220mm) and sufficient ruggedness to thrive on gravel roads which would destroy a conventional sedan, hatchback or crossover. Think of it as an affordable, scaled down version of the Fortuner. The 1.5-litre naturally-aspirated engine is uncomplicated, but with only 77kW and 136Nm, it could prove a touch asthmatic at altitude, fully loaded.
Customers who wish to differentiate their Rush also have option on a range of TRD approved accessories. Cosmetic upgrades include a TRD front bumper, foglamp covers and side decal kit. Enhanced protection elements tally a rear skid-plate and rocker panel strips along the bottom of Rush's doors, both bits should assist in limiting stone chip damage when driving long-distance on gravel roads.
The expense ratio for Toyota's TRD package depends on which upgrades you choose and your local dealer should be able to assist in pricing. If you keep it relatively Vanilla with the base Rush, retail purchasing starts at R299 900.
Help support journalists, the guardians of independent journalism, through our student media initiative that gives a voice to students and their generation! Find out more…Tags: Toyota