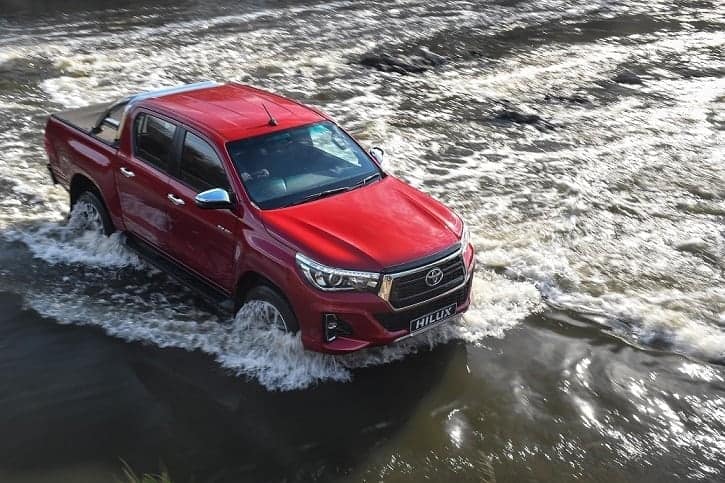 South Africa's most popular vehicle has received a raft of upgrades and now boasts a broader range than ever. Toyota is looking to entrench its position as the best-selling local brand by incrementally improving its most popular product: Hilux.
The latest Hilux update bring its appearance in line with global product cycles with a squarer grille, which draws inspiration from the larger American market Tacoma bakkie.  Both Raider and SRX speciation bakkies now feature the new grille, whilst the two more utilitarian grades, SR and S, look much like before.
If you are obsessively aware of all things Hilux, you'll notice us mentioning an 'S' grade, and yes, that is a new line, with single- and double-cab configurations. These entry-level Hilux models lower the range's price point and with their rugged specification (steel wheels, PVC cabin trim), they are the ideal bakkies for staff who frequent rugged terrain and require hard-wearing everything.
The agricultural, mining and construction industries would be primary customers for the new 'S' grade Toyota bakkies, especially the double-cabs. Although they don't feature 4×4 ability, these bakkies do have an appropriate level of ground clearance (286mm) to make them sufficiently capable off-road.
Beyond the broadening of its workhorse offerings, Hilux has also supplemented kit to its more leisure orientated SRX and Raider models. A host of convenience features are added to Hilux SRX, such as a reversing camera, follow-me-home puddle lights under the side mirrors and a touchscreen infotainment system.
Raider? What has the update brought to Toyota's most famous bakkie nameplate's luxury grade? Black cabin trim becomes available with Raider models, which is always a desired hue, as it resists premature ageing much better than a lighter cabin colour. SatNav functionality improves the infotainment offering and distinguishing the Raider from other Hilux models, are daytime LED headlamps.
Amongst the exhaustive list of derivatives on offer with new Hilux, there are three entries which are of particular interest to those who have long looked across the Indian Ocean, with great jealousy at what our Australian friends have. Down Under the chassis cab Hilux, essentially a bakkie without its loadbin, is immensely popular as a platform for adventure vehicle conversions.
The local range now features three chassis cab options of which the 2.4 GD 4X4 manual is simply aching to be bought and customised for those Cape to Cairo journeys. Toyota's reconfigured Hilux range is now an amazing 42 derivatives strong, with prices starting at R253 200 and peaking with the Raider V6 auto 4×4, at R663 800. And there is no sign of demand wavering.
Help support journalists, the guardians of independent journalism, through our student media initiative that gives a voice to students and their generation! Find out more…Tags: bakkieToyota